Umbrella Leaf protects itself and eight surrounding plants against Bungee Zombies and basketballs.
Prevents Bungee Zombies from landing.
Plant Food: For 1 minute, his blocking range is the entire screen.
Almanac: SPROING! Love to keep surprising people like that. Must prevent air raids as well. That's why my leaves are rock hard!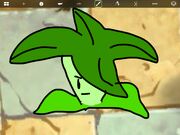 Community content is available under
CC-BY-SA
unless otherwise noted.